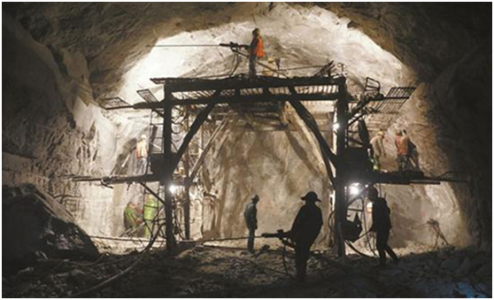 Chola Mountain is the only way that must be passed of 317 National Highway, the lifeline from Sichuan to Tibet. Chola Mountain Tunnel Project, which locates between Ganzi Tibetan Autonomous prefecture and Dege and Gamtog, is a crucial project to go through this mountain, and the first extra-long highway tunnel built on over altitude of 4300m in the world. The project is consist of two major parts: the tunnel and the approach. The tunnel, with total investment of 1150 million yuan, is a two-way two-lane road of 7 km length, which can endure a maximum traffic flow of 5000 vehicles per day.
For a long while, Chola Mountain has been a "bottleneck" of this highway tunnel. Commonly, it takes more than an hour to climb over Chola Mountain in normal speed, and takes near 3 hours in winter on icy road. Once traffic control is implemented, this lifeline road will be completely cut. On Nov. 10th, this situation is finally changed. After over 10 years of scientific research and 5 years of tough construction, Chola Mountain Tunnel, whose overall length is 7079m, is formally run through. If things go well, the tunnel can be open to traffic at the end of 2017, sweeping away the long-lasting traffic bottleneck thoroughly. Hereupon the economic development of impoverished counties like Dege can be boosted.
Without doubt, Chola Mountain Tunnel is of great significance. Whereas to implement this construction at a place where is of high altitude and annual average temperature is lower than minus 18℃, the first problem that needs to be solved is oxygen supply. Lack of oxygen, people will have trouble at work, even the machines may also be malfunctioning. According to a relevant official in Southwest Institute, oxygen content inside the tunnel may only be a half of that in Chengdu Plain. Since 2004, the institute has started the research on "Construction Technique of Extra-long Tunnels under Conditions of High Altitude, Low Temperature, Pressure and Oxygen Content".
What can we do to deal with anoxia? To solve this problem, the construction organization specially built an oxygen station outside the tunnel, which can constantly transport oxygen into the tunnel. Nevertheless, actual operation is far more complex. In August, the research group members came to Chola Mountain again for exploration, and what happened then impressed their technician Zhang Bo deeply. Roadway on Chola Mountain winds a lot, so it needs to be highly concentrated to drive upwards. The landscape is beautiful, but with the altitude becoming higher, the enjoy is replaced by discomfort like chest distress and dyspnea. "We already felt uncomfortable on the mountain, but it was worse inside the tunnel." said Zhang. Although the oxygen problem is solved, new coming staff still need to adapt in plateau construction. Sometimes they need to uptake oxygen in medical room after several hours of working. In fact, in order to accelerate the project, some workers even carry an oxygen bottle with them while working. "We worked for a while, and came out to breath oxygen. It's hard for people to imagine if they haven't experience it."
In tunnels and high altitude places, low concentration of oxygen will lead to chest distress and dyspnea to people. an oxygen station can improve the condition, yet it may push the oxygen concentration inside the tunnel to an excessive level, causing oxygen toxicity. Therefore, it is important to monitor oxygen concentration in real time. ISWeek would like to supply electro-chemical O2 sensor type O2-M2, which can effectively solve this problem. Features of this product are as follows:
The measurement range of this product is 0~25%
Linear output
Its signal is easy to process
Service time of 2 years
The chart below is a comparison between O2 sensor O2-M2 and 40XV from British City Company, which is popular in the market:
| | | |
| --- | --- | --- |
| | O2-M2 | 4OXV |
| Brand | AlphaSense | City |
| Principle | Electrochemistry | Electrochemistry |
| Range | 0~25%VOL | 1~25%VOL |
| Response time | 15 seconds | 15 seconds |
| Sensitivity drift | 1%/Month | 2%/Month |
| Service life | 2 years | 2 years |
From the comparison above, it's clear that O2-M2 and 4OXV are similar in performance parameters, but O2-M2 serves better in sensitivity drift.