VOCs is short for "Volatile Organic Compounds". When it's written as VOC, it specifically means only one kind of them or a collective concept of all kinds of VOCs.
For various requirements of research, management or control, different organizations have different definition to VOCs. ASTM d3960-98 define VOC as any organic compounds that can participate in atmospheric photochemical reactions. EPA (Environmental Protection Agency of the USA) define VOC as any carbon compound that can participate in atmospheric photochemical reactions, except for carbon monoxide, carbon dioxide, carbonic acid, metal carbide, carbonate and ammonium carbonate. WHO (World Health Organization, 1989) defines TVOC as the general term of VOC whose melting point is lower than indoor temperature and boiling point is between 50-260℃. In Indoor Air Quality Standard published in China(GB/T 18883-2002), the definition of Total Volatile Organic Compounds TVOC is the general term of VOC whose retention time is between that of n-hexane and n-hexadecane through non-polar chromatographic column (polarity index<10) analysis with samples of Tenax GC and Tenax TA.
In the air, the existing organic matters are not limited to only VOCs. Some organics can exist in both gas state and particulate matter in room temperature. With temperature changing, the ratio of these two states of the matters will also change. Such organics are called semi-volatile organic compounds, or say SVOCs in short. Some organics can only stay in particle matters in room temperature. These organics are called non-volatile organic compounds (NVOCs). VOCs, SVOCs and NVOCs can all participate in atmospheric chemical or physical process in the air, some or which can do harm to human health. The environmental effects of such matters include the air quality, weather and climate.
ISweek now supply PID sensors from Alphasense which can detect VOC gas. The features of this product are as follows: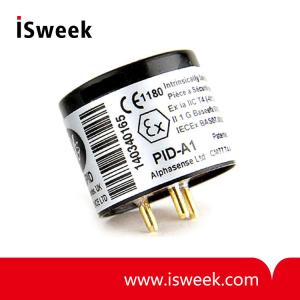 Photoionization Gas Sensor (PID Sensor) – PID-A1
Large measurement range of 0~6000ppm
Minimum detectable concentration of VOC is 50ppb
The light bulb is of 10.6eV
Long service life of light bulb up to 5000 hours
Be able to measure most VOC gases
Linear output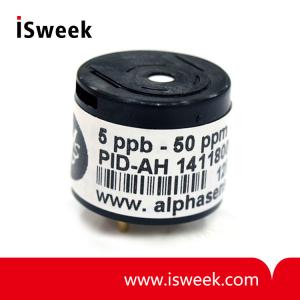 Photoionization Gas Sensor (PID Sensor) – PID-AH
High resolution of 0~50ppm
Minimum detectable concentration of VOC is 1ppb
The light bulb is of 10.6eV
Long service life of light bulb up to 5000 hours
Be able to measure most VOC gases
Linear output