Monitor river water level changes, predict the arrival of flood, tell people in advance to do the protection work of home property.When the water level of the monitoring channel rises rapidly, the flood disaster is very likely to happen. At this time, the people should be evacuated in time and the protection measures should be taken.When the water level of the monitoring channel decreases rapidly, it is likely to be a drought, which requires early warning of water storage, crop drainage and so on.Therefore, the flood characteristic water level of river lake is an important basis for flood control and drought relief organization command and flood fighting.
Nowadays, with the development of science and technology, people's life is more secure, and the monitoring of river courses, DAMS and other equipment is becoming more and more advanced.Such as the image below is found in this paper, the new equipment, the equipment using the ultrasonic signal is converted to electrical signals of ultrasonic sensor, using solar panels to power supply, used to detect the height of the river water level, and real-time acquisition of water level height data, send data to the centralized processing system by wireless communication.This kind of equipment makes full use of solar energy, both environmental protection and energy saving.It also USES radio transmission data to save cost and efficiency.In general, technology has improved people's lives.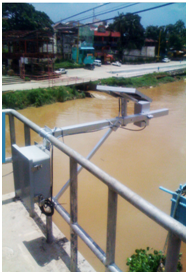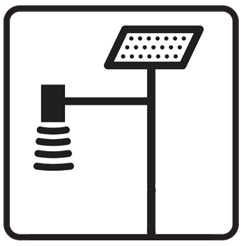 Finally, we recommend an ultrasonic sensor MB7066 which is suitable for detecting the change of river water level.It is a small but strong weatherproof ultrasonic sensor.Accord with IP67 protection level, can protect dust inhalation, can be briefly soaked.High output sound power and continuous variable gain, real-time automatic calibration, good noise suppression algorithm and other advantages, can effectively realize noiseless distance reading.Even in the presence of many acoustic or electronic noise sources, reliable distance readings can be obtained.The measured distance can be up to 10 meters, which can be used in remote detection and liquid level detection.
Maximum range: 10m
Resolution: 1cm
Supply voltage:    3V-5.5V
Sampling fraquence: 10Hz
Outputs: serial data(RS-232 or RS-485)
Working mode: Free running or external trigger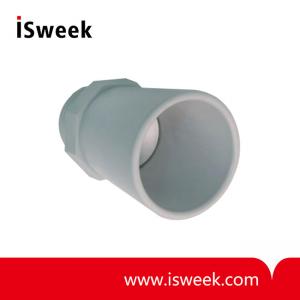 As well the ToughSonic REMOTE 14 is a remote water level sensor with a maximum range of 14 feet (4.3 meters).  This digital sensor is designed for accuracy and long-termultrasonic liquid level sensors in stainless steel durability in remote monitoring applications.  With a stainless steel housing, full epoxy potting and IP68 rating, it withstands the most demanding environmental conditions.  It uses up to 21 percent less energy in solar and battery-powered applications. The ToughSonic REMOTE 14 is fully configurable using SenixVIEW software.  The ToughSonic REMOTE family of sensors are specified by some of the largest and most sophisticated irrigation, flood management and remote monitoring organizations in the world.
maximum range: 14 ft(4.3m)
Optimum range: 4 in – 10ft(102mm – 3m)
Size: 05 x 4.0632 in
Mounting: 30 mm threaded
Outputs: serial data(RS-232 or RS-485)
Cable: 5feet , 4-wire