Hydrogen chloride (HCl) is a diatomic molecule, consisting of a hydrogen atom H and a chlorine atom Cl connected by a polar covalent bond. It is a colorless gas with pungent smell, which forms white fumes of hydrochloric acid upon contact with atmospheric water vapor. Hydrochloric acid is a solution of hydrogen chloride and water, and a variety of other chemical species, including hydronium and chloride ions.
HCl can be used to manufacture chloride like zinc chloride (a kind of welding flux), and extract metals like radium, vanadium, tungsten and manganese. It is an important kind of inorganic chemical material, which is widely used in industries including dye, medicine, food, printing, leather and metallurgy. With the development of organic synthetic industry, the applications of HCl and hydrochloric acid are becoming more extensive. It can be used in starch hydrolization to produce glucose, and also in manufacturing quinine hydrochloride (against malaria) and other kinds of hydrochloride used in organic potions.
During production, various reasons may lead to HCl leakage which is poisonous to staff. Therefore, HCl concentration needs to be monitored in real time in case leakage takes place. HCl, when reach a certain level, can influence human body as follows:
| | |
| --- | --- |
| HCl concentration | Influence on human body |
| 1ppm | Can be smelled |
| 2.5ppm | Harmful |
| 9ppm | physiological barrier appears, but can stand for 6 hours |
| 10ppm | The smell become pungent |
| 35ppm | Start to sneeze and become apnea |
| 10-50ppm | Can still work but not for long |
| 40-90ppm | Can stand for 0.5-1 hour |
| 1000-1350ppm | Be critically ill in one hour |
| 1250-1750ppm | Die in one hour |
The highest level allowed by national profession regulations is 5ppm.
We ISWeek provide HCl gas sensors for real-time monitoring of HCl concentration in working environment.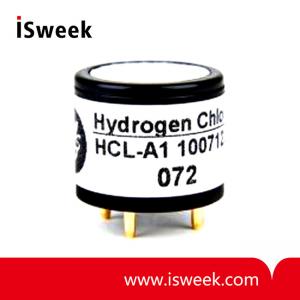 Features of HCl sensor HCL-A1:
Electrochemical principle
Φ20mm*16.5mm in size
Measurement range: 0~100ppm
Linear output
Capable of resisting the interference of SO2, CO, H2, C2H4, NH3 and CO2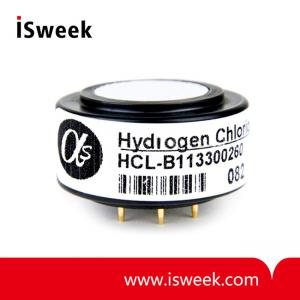 Features of HCl sensor HCL-B1:
Electrochemical principle
Φ32.3mm*13.5mm in size
Measurement range: 0~100ppm
Linear output
Capable of resisting the interference of SO2, CO, H2, C2H4, NH3 and CO2