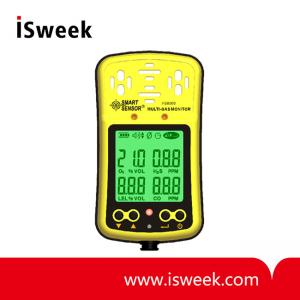 Details of AS8900 Multi-Gas Monitor
FEATURES
A gas detector is a device that detects the presence of gases in an area, its' often applied as a part of a safety system. This type of equipment is used to detect a gas leak and interface with a control system so that a process can be automatically shut down. A gas detector can sound an alarm to operators in the area where the leak is occurring, giving them the opportunity to leave. This type of device is important because there are many gases that can be harmful to organic life.
Gas detectors can be used to detect combustible, flammable and toxic gases, and oxygen depletion, etc. This type of device is widely used in industry. They can be found in place like on oil rigs, to monitor manufacture processes, and in emerging fields, such as photovoltaic technology. They may also be used in firefighting.
While many of the standard gas detector units are originally fabricated to detect single type of gas, modern multifunctional or multi-gas devices are capable of detecting several gases simultaneously. The units can be used individually to monitor a small working areas, or be combined or linked together to create a protection system.
AS8900 Multi-Gas Monitor Application
With the development of times and improvement in people's requirements, the use of gas detector is more and more extensive. It is widely used in petrochemical industry, pharmaceutical industry, food industry and tobacco industry.
In pharmaceutical industry, gas detectors are mainly used to monitor volatile organic compounds, for that a lot of materials and intermediates are toxic chemicals or inflammable and explosive substances. Chemical plants which have the same needs as above,  use the detector to monitor the leakage of toxic or inflammable and explosive gases in the pharmaceutical process.
In some processes of food industry, such as sterilization and preservation where gases like ClO22, CO2, O2 are used to detect the gas concentration detection, process control and leakage monitoring.
Special reminds for AS8900 Multi-Gas Monitor
Before using the Multi-Gas monitor, we need to know the type of gas to be detected, for example,the AS8900 can detect oxygen, carbon monoxide, hydrothion, combustible gas. The form below shows the detail specifications of AS8900, please read it carefully.
SPECIFICATIONS
Gas Type
Oxygen / Carbon Monoxide /

Hydrothion / Combustible Gas

Measuring range
O²: 0~30% VOL

CO : 0~999 PPM

H²S : 0~500 PPM

Combustible Gas : 0~100% LEL

TResolution
0.1% / 1μmo/mol(ppm) / 1%
Measuring Principle
Electrochemical principle, life for 2 years
Low / High Alarm
√
Alarm Setting
√
Alarm
Sound, Light Alarm. Adjustable Alarm values, Alarm sound up to 80 db.
Operating temperature
-10~50℃
Operating humidity
15%-95%RH (Standard)
PACKING INFORMATION
| | |
| --- | --- |
| Power | 3.7V Li-battery |
| Product Net Weight | 200g |
| Product Size | 120.2*64.5*38.3mm |
| Packing | Gift Box |
| Standard Quantity Per Carton | 24 |
| Standard Carton Size | 46*45.5*55cm |
| Standard Carton Gross Weight | 19.5KG |