In computer equipment, large amount of semi-conductors, resistors and capacitors, etc are being used. When the computers are operating, temperature rise will somehow affect the functioning of these elements. In order to ensure the computers` normal operation, not only temperature in the room should be strictly controlled, but humidity also needs to be limited in a certain range. Therefore, monitoring on machine rooms usually includes their temperature, humidity, water leakage, fire, power supply, UPS and video surveillance. Here ISWeek would like to introduce how particulate pollutants affect machine room environment, and how to detect them.
Particulate pollutant
Data center, no mater equipped with air-side energy saving device or not, should comply with level 8 cleanness legislated in ISO.
Air-slake relative humidity of particulate pollutant should be >60%.
No presence of zinc whisker in the data center is allowed.
Data centers without air-side energy saving device should adopt following filtering method to reach ISO level 8 of cleanness:
 Continuously filter indoor air with MERV8 filter.
Use MERV11 filter, or better, MERV 13, to filter the outside air entering data center.
Data centers with air-side energy saving device should select their filters based on their specific case to reach ISO level 8 of cleanness. Commonly they use MERV11 to filter the outside air entering data center, but MERV13 is a better option.
Air-slake relative humidity of particulate pollutant should be >60%
By saying air-slake relative humidity of particulate pollutant, we mean the RH (%) inside a data center when the dust fallen on PCB can absorb enough moisture to be wet enough to cause corrosion and / or ionic migration. Most particles in machine rooms are harmless, but these dusts will absorb moisture when air-slake relative humidity of particles is lower than RH in the room. The ionic pollutant in wet dusts can weaken insulation resistance on PCB, leading to shortcut on nearby functional parts, damaging IT equipment, and even crash down the computer.
On the one hand, particles to enter machine rooms should be minimized; on the other hand, relative humidity inside the rooms should be controlled to prevent any chance for the dust to absorb moisture, so as to eliminate the presence of wet dust. If relative humidity inside data center can be kept below 60%, leaked current due to suspended dust can be kept within a secondary μA level range, which is acceptable, so that damage caused by wet dust can be avoided.
Influence of suspended particles on room equipment
Mineral particles and fibroid dust are featured with hygroscopicity. If they get into machine rooms and attach to electronic components, the metallic materials are very likely to be oxide etched. Then the electric parameters can be changed, while heat dissipation and insulating property of these components are reduced. What`s more, dust adherence on electronic elements may severely influence heat dissipation of the servers, causing shortcut and failure. Excessive temperature will result in: degradation of elements and thus service time reduction; changes of materials` dilatation coefficient and thus failures on magnetic disk units; accelerated aging, shape altering and crack of insulation materials, which will soften thermoplastic insulation and lubricating grease and lead to malfunction. When the temperature is higher than electronic components` allowable value of temperature rise, the component chips will be burned.
In order to minimize the particles to enter machine rooms, ISWeek supplies two solutions with product recommendations. The first one is PM2.5 sensor TF-LP01 from Figaro (Japan), and the other is PM2.5 sensor module PDSM010 from Syhitech (Korea). Details of these two products are as follows: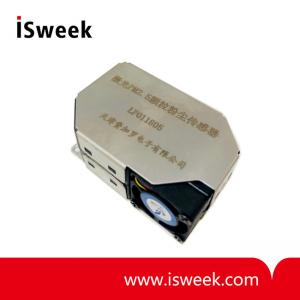 TF-LP01 Laser PM2.5 Sensor Description
TF-LP01 type laser particle sensor is a small module for detection of particles in the air with scattering principle. It features compact size, high accuracy, repeatablity and consistency, and strong resistance against interference. It adopts ultra-silent fan, and is able to response in real-time and collect data continuously. The sensors are 100% tested and calibrated in factory.
TF-LP01 Laser PM2.5 Sensor Features
• High accuracy
• Fast response
• Compact in size
TF-LP01 Laser PM2.5 Sensor Applications
• Air purifier, portable air quality detector, smart home, etc.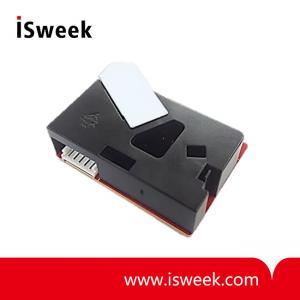 PDSM010 Particle Sensor Module Product Summary
PDSM010 detects approx. 1μm particle such as house dust, pollen, germs, dust mites and cigarette smoke and measures the concentration of floating particles in a room space up to maximum 30m3.
This sensor is an ideal product for automatic room air monitoring system such as an air purifier.
PDSM010's signal is converted to PWM output by internal circuit and MCU program. Also, the sensor's filter circuit and MCU program can remove a noise in order to operate more stably when a noise is in-flowed in the signal.
PDSM010 has advantages of both stable detecting  ability  and  high  manufacturing efficiency.
The sensor does not have an additional control point (VR Trimmer) on the device unlike its previous model (DSM). It prevents potential malfunction often occurred by user's arbitrary modification.
PDSM010 Particle Sensor Module Features
• Customized sensitivity for efficient control in application
• Detects approx. 1μm particle
• MCU Control (Factory Calibration)
• Easy maintenance
• PWM Output (Low Logic Pulse Active)
• Noise Protection
PDSM010 Particle Sensor Module Applications
• Air cleaners, Air conditioners
• Ventilation System, Fan Control
• IAQ Monitoring & Control
• IoT Device