With the development of science and IT technology, the society is being covered by the Internet of Things in a rapid manner. Sensors, as one of the most important element in this IoT society, are playing an essential role in interconnection. Being an indispensable type, dissolved oxygen sensors are applied quite widely.
Now we ISweek would like to make a detailed comparison between two types of DO sensors by the following two models for reference: Submersible galvanic dissolved oxygen sensor DO6400 and Yuasa dissolved oxygen Sensor KDS-25B.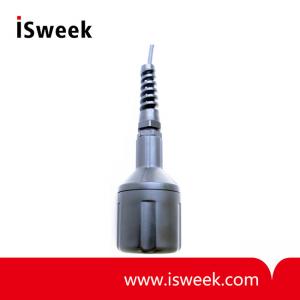 VS
The DO6400 & 7400 series dissolved oxygen sensors feature a large capacity electrolyte holder, positive fit, easy to replace membrane and dependable galvanic cell technology for long term deployment. The body design ensures a good grip when wet. Ideal for Aquaculture and waste-water monitoring applications, these sensors require minimal maintenance. PTFE or High-Density Polyethylene (HDPE) membranes are available. 2 Replacement membranes, installation tool and electrolyte are included. Additional maintenance parts are in convenient kits (see ordering information). Sensors with mV output as well as built-in 4-20mA output in 0-100% and 0-200% saturation range are available.
Specifications of DO6400:
O2 Measuring Range
DO6400, DO6400TC (0.5-20ppm), DO6441(0-100%),
DO6442(0-200%), DO7400, DO7400TC (0.03-20ppm),
DO7441(0-100%), DO7442(0-200%)
Body Material
Noryl
Cathode
Silver
Anode
Zinc (DO6400 Series), Lead (DO7400 Series)
Maximum Temperature
50 Degrees C
Power Requirement
12-36V DC (for models DO6441, DO6442, DO7441 and DO7442 only )
Temperature Sensor
(User specified temperature elements) Connect to your controller or PLC for temperature output
Cable length
3 meters, tinned leads
Minimum Flow rate
3 cm per second
The GS Yuasa Dissolved Oxygen Sensor KDS-25B is a unique galvanic cell type sensor which was developed for water quality control. Its most notable features are long life expectancy and no influence by CO2.
DO sensor KDS-25B uses special acid electrode. Its cathode adopts inert metal gold, and its anode is of metallic lead. Oxygen diffuse and pass through fluororesin film to take part in redox reaction. In this way an oxygen lead accumulator is constituted. The current generated in the redox is transferred into voltage output by internal resistance. In this process, the current generated is directly proportional to the concentration of dissolved oxygen, or strictly speaking, to oxygen pressure. (the higher the content of dissolve oxygen is, the more oxygen molecules getting through the film and taking part in redox reaction are). KDS-25B is a favorable choice for environmental monitoring and water quality detection.
Specifications of KDS-25B DO sensor: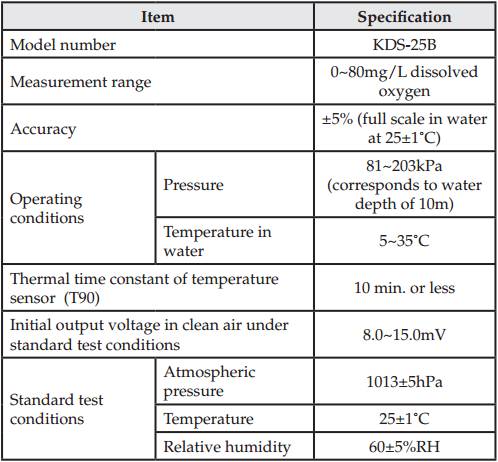 These two types of DO sensors are both of excellent performance, making them ideal choice for industries like aquaculture, environmental monitoring and sewage detection and treatment. Both of these DO sensors have their merits in function, offering users with more options in line with their practical demands.