Nowadays, gas pipeline projects are extensively implemented in advanced technological industries like industrial gases, petrochemical engineering, medicine, micro-electronics, semi-conductors, solar photovoltaics, laboratories and institutes. Mass flow gas meters are commonly applied in such projects.
Centralized pipeline supply of industrial gas is a simple and efficient supply mode. However, due to industrial gas and corrosion of pipe materials, many impurities are generated in the pipeline. If the pipe is used for oxygen transmission, the oxidation of pipe will be accelerated. The accumulation of impurities will lower the quality of industrial gas, and obstruct gas appliances like numerically-controlled machine tool, welding gun, burning torch, leading to equipment errors that affect normal production.

According to international standard classifications, selection of flow gauges involves measurement of fluid flow, oil and gas commercial units, medical equipment and valves. But in China, it involves level meter, oil and gas transferring equipment, length measurement, public medical facilities and oil drilling and production equipment.
For now the flow gauges applied in our daily lives are mainly for volume measurement. Mass flow meters are of high accuracy, long service life, wide flow range and excellent repeatability. It is an advanced technology in China to use mass flow gas meters for flow measurement.
Mass flow gas meters calculate flow based on heat conduction theory. Two thermal resistance elements are in measuring section where the gas goes by, one for temperature measuring, the other as a heater. These two elements, together with the circuit inside the meter, forms a temperature control system to keep the temperature in the space between the two elements at a constant value. The larger the gas flow becomes, the stronger the cooling effect is, so that the current required to keep constant temperature becomes bigger. This heat conduction is proportional to gas mass flow, which means that the relationship between the supply current and gas mass flow can be expressed by a corresponding function. Moreover, if flow is expressed by volume, parameters of the medium (temperature and pressure, etc.) should be given since that the volume of gas can be affected by the changes of temperature and pressure, while mass flow gas meter can avoid such problem.
Measurement is the eye of industrial production, in which gas flow measurement relates closely to domestic economy, national defense and science research. It is important for quality control and efficiency of production, especially in the time when energy crisis and industry automation is taking place. For the monitor of industrial gas in gas pipeline, ISWeek provides a solution based on flow meter MF5000 from Siargo.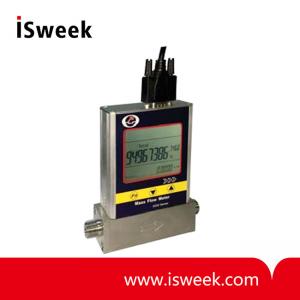 MF5000 series Gas Mass Flow Meters General description
MF5000 series mass flow meters are specially designed for small pipe flow monitoring and feature an extremely low pressure loss compared to the traditional by-pass thermal mass flow meters in this application scope. The accuracy of the meters are generally ±(1.5+0.5FS)% or better depending on the requests.  The meters can work at an environment of -20 to 60°C and pressure up to 1.5 MPa.  Applications include semiconductor gas process monitoring and control, hospital oxygen gas monitoring, etc.
MF5000 Series have 5 designs, with model number:MF5003/MF5006/MF5008/MF5012/MF5019.
MF5000 series Gas Mass Flow Meters Features and Applications
– Highly sensitive, measuring as low as 8 mm/sec, and as high as 65 m/sec with a single assembly
– Directly sense mass flow using thermal mass flow principle
– Proprietary MEMS sensor package design for better reliability
– Standard 12 ~ 24 Vdc power supply
– Low pressure loss forreducing energy cost
– Industrial standard Modbus protocol for easy networking and remote control
MF5000 series Gas Mass Flow Meters Mechanical Dimensions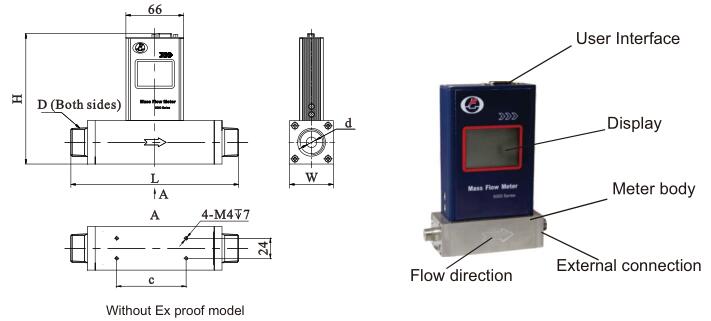 MF5000 series Gas Mass Flow Meters Specifications
Accuracy
±(1.5+0.5 FS)%
Environment
Temperature: -20 ~ +60℃;
Humidity: < 95%RH (No icing or condensation)
Flow channel
3 ~ 19 mm
Display
Flow rate and accumulated flow
Interface
4 ~ 20 mA; RS485; Pulse
Calibration
Air @ 20℃; 101.325 kPa
Protection
IP40 (Without Ex proof model); IP66 (With Ex proof model)
Ex Proof
Ex d IIC T4
Note:the above parameters are applicable at 20℃ and 101.325 kPa
MF5000 series Gas Mass Flow Meters Production selection